Sliced pork soup with Ganoderma lucidum and bean sprouts
Ganoderma sinensis is mild-natured and has the effect of tonifying spleen and stomach. Enoki mushrooms have the effect of nourishing the liver and benefiting the stomach. Regular consumption of this medicinal diet can boost the immune system, improve the appetite, reduce cholesterol and alleviate limb swelling caused by spleen and stomach weakness.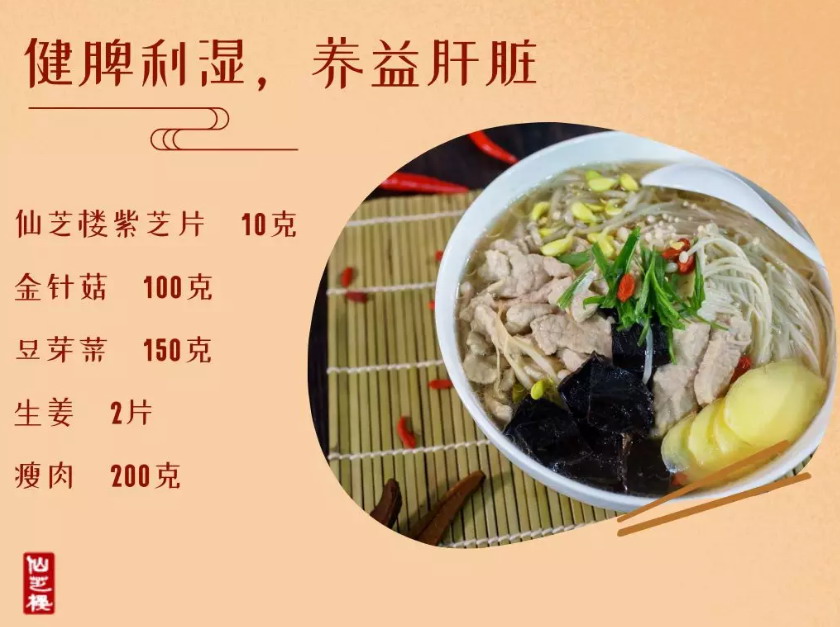 Food materials:
GANOHERB Ganoderma sinensis slices: 10 grams
Enoki mushroom: 100 grams
Bean sprout: 150 grams
Raw ginger: 2 pieces
Lean meat: 200 grams
Directions: Boil the Lingzhi slices with water and keep in reserve.
Cut the lean meat into slices and wrap with starch for standby application. Stir-fry ginger slices, bean sprouts and enoki mushrooms, pour them into the cooked Reishi Mushroom soup. After the soup is boiling, put the lean meat slices into the pot for stewing until the meat is well-cooked. Then add seasonings into this soup. Next, you can enjoy this dish.