Polysaccharides:Anti-tumor, Anti-bacteria and Anti-oxidation
Introduction: Researchers from the University of Maribor proposed in Molecules (2018) that Ganoderma lucidum polysaccharides have positive effects on anti-tumor, anti-bacteria and anti-oxidation.

References:Cör D, Knez Ž,, Knez Hrnčič M.Antitumour, Antimicrobial, Antioxidant and Antiacetylcholinesterase Effect of Ganoderma Lucidum Terpenoids and Polysaccharides: A Review.Molecules. 2018 Mar 13;23(3). pii: E649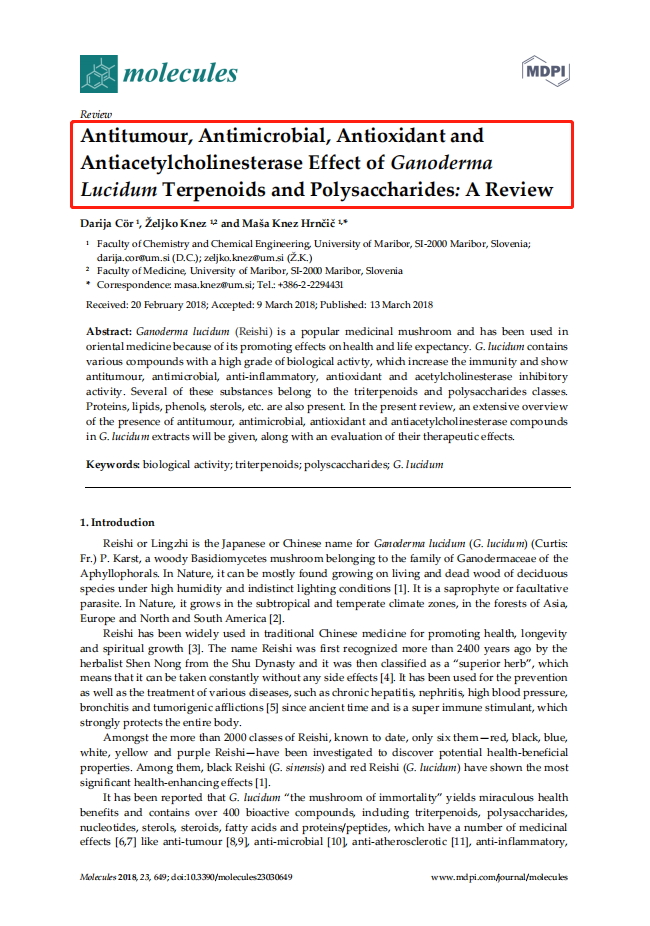 Polysaccharides:Immunoregulation and Anti-cancer
Introduction: Experts from various institutions such as Life Science Research Center of Louisiana State University published a research paper in Anticancer Agents Med Chem (2018): the evidences from in vitro and in vivo studies indicate that Ganoderma lucidum polysaccharides have potential anticancer effects such as immune regulation, anti-proliferation, apoptosis promotion, anti-metastasis and anti-angiogenesis.

References: Sohretoglu D,Huang S. Ganoderma lucidum Polysaccharides as An Anti-cancer Agent. Anticancer Agents Med Chem. 2018;18(5):667-674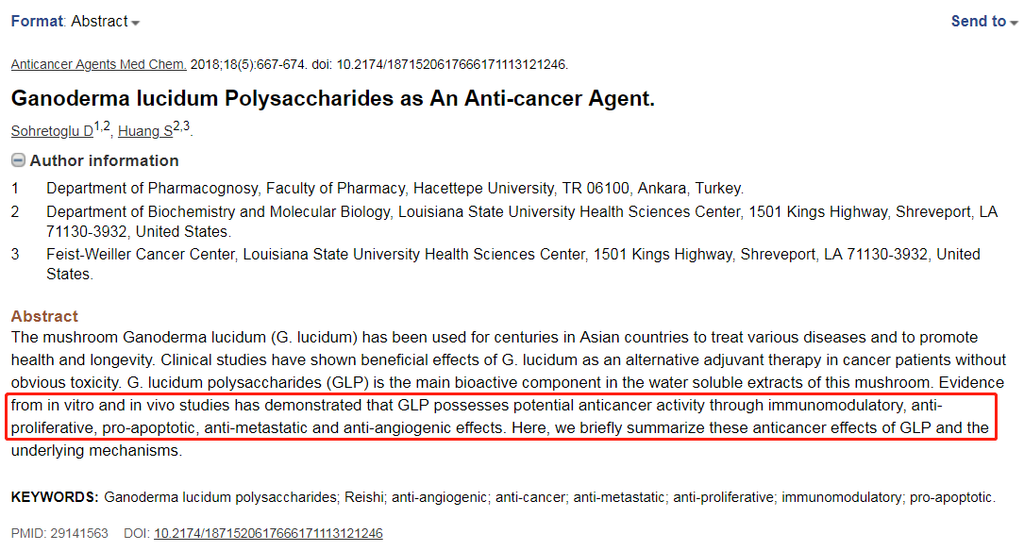 Polysaccharides:Anti-tumor and Immunoregulation
Introduction: A joint study by Chinese Ministry of Health and Chinese Academy of Medical Sciences found that Ganoderma lucidum water extracting solution (mainly Ganoderma lucidum polysaccharides) significantly inhibits sheep erythrocyte antibodies in tumor-bearing mice, indicating that Ganoderma lucidum has the effect of inhibiting tumor growth and regulating immunity.

References: He Laiying, Dai Yin, Cai Youyu, Ju Limei, Ma Yaowen. Effects of Ganoderma Lucidum Extracting Solution on Immune Function and Toxicity in Mice [J]. Chinese Journal of Food Health,1997(04):23-26+49-50.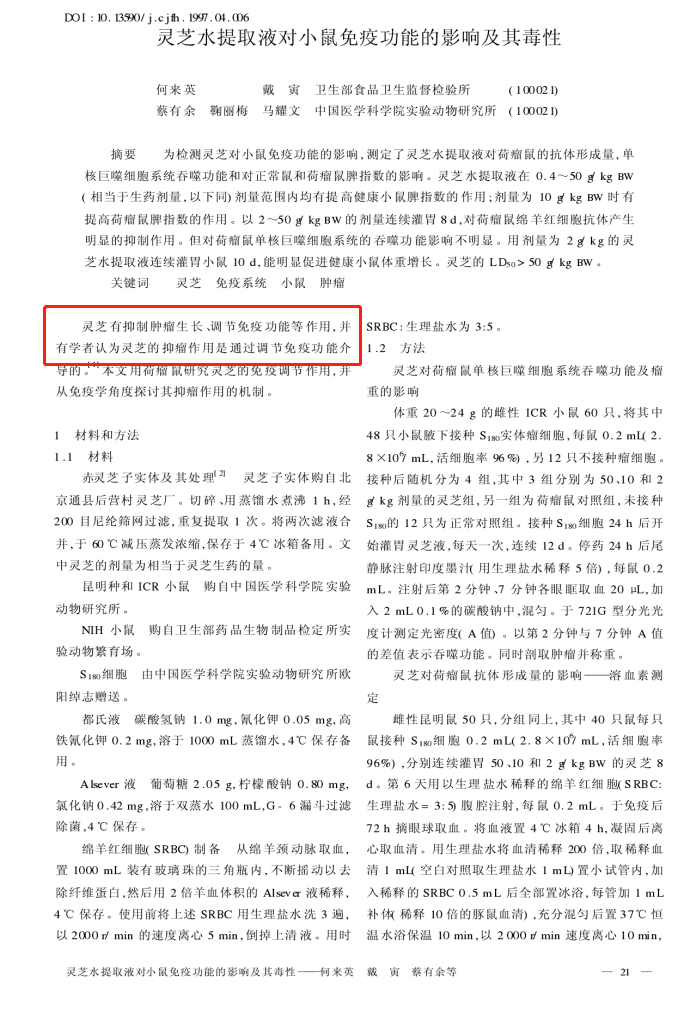 Polysaccharides:Boosting Immunity
Introduction: The mechanism of Ganoderma lucidum polysaccharides enhancing immunity was discovered in a joint study by the people's liberation army No.401 hospital and the first military area university. They discovered the effect of Ganoderma lucidum polysaccharides on the expression of mouse macrophages lL-la and TNF-a mRNA, which proved that Ganoderma lucidum polysaccharides can enhance immunity.

References: Li Mingchun, Lei Linsheng, Liang Dongsheng, Xu Ziming, Yang Shuqin, Sun Lisha. Effects of Ganoderma lucidum Polysaccharide on Expression of Interleukin-1α and Tumor Necrosis Factor-α mRNA in Mouse Macrophages[J].Chinese Journal of Pharmacology and Toxicology, 2000(03) ): 237-240.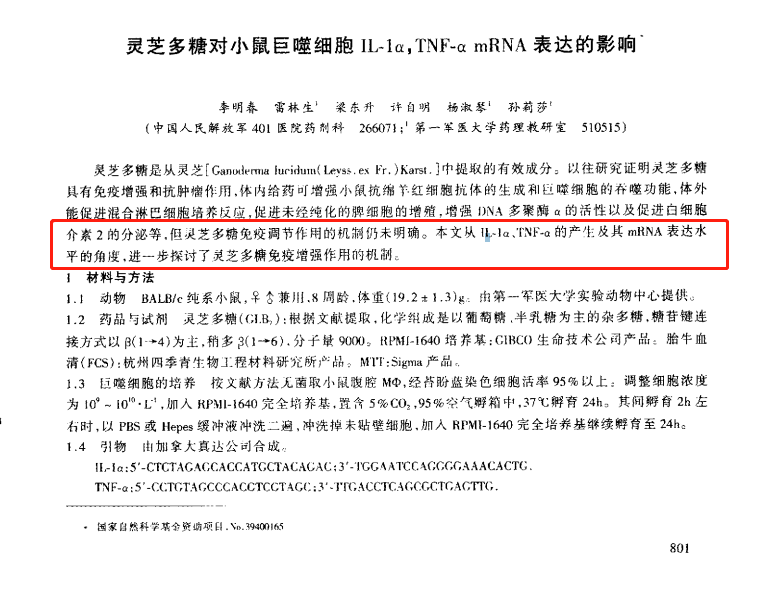 Polysaccharides:Anti-tumor
Introduction: Prof. Zhang Qunhao, a researcher of Harvard Medical School and Massachusetts General Hospital, and Professor Lin Zhibin, a professor at Peking University and the father of Ganoderma Lucidum, found that GL-B, a polysaccharide of Ganoderma lucidum, has an indirect anti-tumor effect and reveals its mechanism of action.

References: Zhang Qunhao, Lin Zhibin. Study on the antitumor effect and mechanism of Ganoderma lucidum polysaccharide GL-B[J].Chinese Journal of Integrated Traditional and Western Medicine,1999(09):544-547.